Thursday night, after the Thanksgiving excitement wore off and the leftovers were put away, the annual Black Friday question loomed…"Do I chase the deals at brick and mortar stores or stick to online shopping from my sofa?"
I struggled deciding, and my decision fluctuated often based on the below criteria.
Doorbusters and In-Store Only Deals- Stores entice consumers to shop with deals that are only available in-store. Quantities are generally very limited, hence the lines that wrap five times around the store. So, if you want that 70" LED HDTV, you better prepare accordingly.
Family Tradition/Experience- Like many households, my family would gather around the dinner table rifling through the circulars. Each of us picked out things for our wish list and planned a route of attack to hit the stores that were necessary to get the best deals. It became an exciting holiday that was almost completely separate from Thanksgiving. Shopping in-store obviously also provides a better hands-on experience where you can try on clothes, see floor models, and test out the latest technology. With that being said, the internet does provide endless item descriptions and reviews to give you all the information necessary to make good purchases.
Number of Stores- The number of stores you can physically visit on Black Friday are limited. Long lines and commute times hinder the sales you can hit, even when executing the most well-thought-out shopping plan. Online shopping is effortless, and you can stumble on deals you didn't even know existed while browsing on hundreds of store sites.
Larger Selection/Inventory- while you may not be able to get the crazy doorbuster deal, there's a much larger selection and inventory of sale items online. There's definitely more to go around when online shopping. Also, I'm not sold that the doorbuster and in-store "deals" are always the best options out there. With a little research, you may be surprised at the deals you find!
Extension of Sales- it's no secret that Black Friday deals aren't exclusive to just Friday anymore. You can start seeing "Black Friday" deals weeks in advance and weeks after. I made half of my Christmas present purchases online the Sunday through Tuesday after Black Friday because great deals just kept following me. Those darn digital media advertisers and retargeting!
Ultimately, I decided to stick to online shopping to avoid the lines, crazy people, salespeople, and traffic. The bottom line is that whether you decide to shop solely online, in-store or a combination of both, should depend on what deals you're chasing and where they are available. This year I didn't have a must-have item on my list, so it was easier for me to stay cozy at home and do my shopping online. But who knows, next year you may find me in the mix trying to get that 70" TV!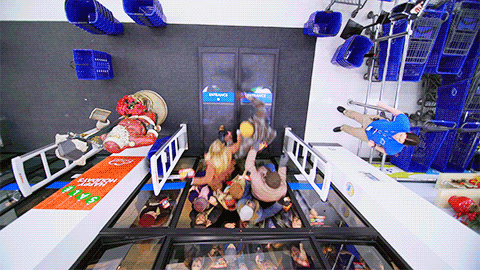 #DigitalMedia #shopping #onlineadvertising #blackfriday #blackfridayshopping #deals